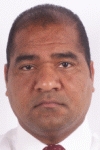 Aejaz Ahmed Danishmand is Founder and Chief Executive Officer of Global Strategies & Ventures Group FZE and is Vice Chairman of the Board of Advisors since establishing the Company in 2012. Aejaz has over 25 years of experience in Advisory work including 23 years in Investment Banking working in Mergers & Acquisitions, Equities and Debt Markets and 2 years in Management Consulting advising companies on making better strategic decisions and operational improvements. Aejaz joined Mashreq in 2007 as Head of Equity Capital Markets (ECM) and Mergers & Acquisitions (M&A) Advisory and was instrumental in helping to develop these businesses from the start-up stage to established and well respected businesses in the market. Prior to joining Mashreq, Aejaz was Senior Vice President and Head of M&A and ECM at Habib Bank Limited where he helped to establish the Investment Bank in 2003. Prior to joining Habib Bank, Aejaz was Founder and Managing Director of American Strategies and Ventures Corp, a middle market and small business advisory firm. Aejaz started his Wall Street investment banking career in New York, spending several years at bulge bracket firms including Merrill Lynch and Lehman Brothers in Direct Investments, Capital Markets and Mergers & Acquisitions advising Fortune 100 companies across a broad range of complex advisory assignments. Prior to this, Aejaz briefly worked at CitGroup, Crescent Investment Bank, Accenture and Sara Lee Corporation.
Over the past two decades, Aejaz has been Head of all major product areas, including M&A, Equity and Debt at one time or another and has developed extensive international experience working on a variety of complex assignments in the developed and emerging markets. Aejaz has advised on over USD 50 billion in M&A and capital raising transactions.
Prior to starting his career on Wall Street, Aejaz earned an MBA in Finance and Accounting from The University of Chicago, Graduate School of Business in 1995, where he was on the Dean's Honors List, and received a B.S. degree in Economics & Industrial Management with College Honors from Carnegie Mellon University in 1989.
Aejaz is an avid traveler and sportsman with interests in track & field and martial arts. He enjoys movies, concerts and Broadway plays.